PDF Burst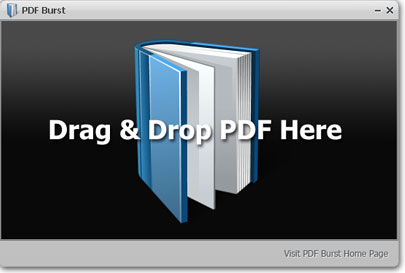 Name: PDF Burst
Version: 1.1
File Size: 2.5 MB
Type: FREEWARE
Installation: Portable ZIP File
Requirements: Windows 2000/XP/2003/Vista/7/8/10

Download PDF Burst Now
PDF Burst


Sometimes people may want to split a multi-page PDF file to PDF pieces for transferring, or saving some private information pages.

PDF Burst was built as a free app to burst PDF File to Single Page PDF Files with only Drag-and-Drop, and has a nice user interface. PDF Burst is a GUI free windows tool based on PDFTK project. People can burst PDF files by PDFTK command line, but it is complicated for rookie users and business users who often use. So we created PDF Burst for making things easier. We also made it portable, so that you can copy and share it simply. Just enjoy.

PDF Burst Features

1- Fast: Burst PDF in few seconds.

2- Easy to Use: Simply drag a PDF file and drop it to the program, the bursting will be started immediately.

3- Portable: Users can copy the PDF Burst ZIP file to anywhere without installation.

4- 100% Free: PDF Burst is totally free and doesn't have hidden charge links.

5- Clean: PDF Burst won't write anything to your registry or local file system. Also, it doesn't contain any spyware or malware.